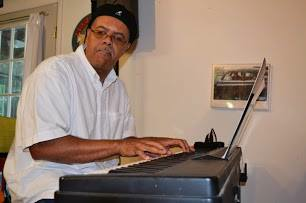 Chip Lovett will bring his jazz keyboard to the Concerts of the Quad music series. The Huntingdon County Arts Council and Juniata College once again are bringing music to the community with our Concerts on the Quad music series.
Chip Lovett was raised in Brooklyn, New York and was exposed musically by playing clarinet in elementary school and trumpet in Junior high school. During his junior year at Juniata College located in Huntingdon, Pennsylvania in 1975, he began to explore a different instrument, the piano, due to listening to jazz legends such as Oscar Peterson, Chick Corea and Herbie Hancock , his main musical influences even today.
Chip received individual piano lessons for three years and then created Bryne/ Lovett , a jazz saxophone/ keyboard duo which subsequently led to the creation of Urban Fusion, a fusion jazz band which he started with three other members in State College Pennsylvania.
As a solo keyboard artist, Chip has performed in the Huntingdon County area at weddings, fine dining establishments and has collaborated with other musicians performing for the Huntingdon Historical Society. Chip also performed with Urban Fusion at the Juneteenth Celebration in Huntingdon, Pennsylvania for the last seven years. Chip was also the guest pianist performing jazz standards for the Juniata College Jazz band in 2013.
Chip has recorded duo- jazz projects, performs trio jazz piano and has served as musical director and arranger for numerous jazz, R&B and vocal groups in the State College area.
Chip will be joined by two of his bandmates from Urban Fusion.Gary Abdullah, born in Philadelphia, Pa., started playing the bass guitar for the United Soul Ensemble, Penn State's student gospel choir. During the '70s and '80s he sang and played with the Black Christian Fellowship Mass Choir and with the UNITY gospel choir, throughout Pennsylvania and neighboring states, and in several editions of State College's Central Pennsylvania Festival of the Arts. In 1991, Gary was a founding member and bassist for Ecclesiastes, a twelve-member ensemble of singers and musicians from State College that performed contemporary Christian and black gospel music in the region for more than twelve years.
Andrew Jackson is a native of Chester, Pa., who has been a drummer and percussionist since the 1970s, when he played with jazz organist Joey DeFrancesco. As one of the first African American members of Penn State's Blue Band, Jackson has been a big part of Happy Valley music , playing with groups as diverse as the Essence of Joy Gospel Choir, Smoking Bananas/ the Deacons of Dixie and the Earthtones.
Bring your lawn chairs, your blankets, picnic supplies and your friends and family to the Juniata College quad, in front of the Halbrittter Center for the Performing Arts.
These outdoor concerts are free, but donations appreciate.