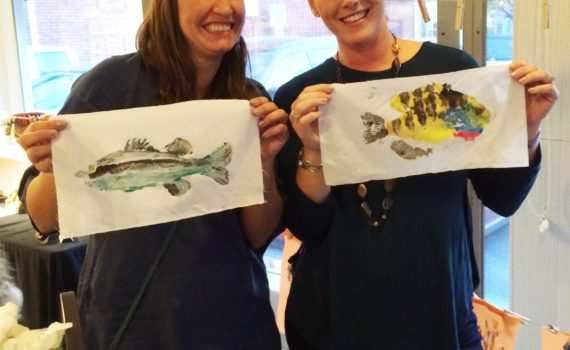 Join us Thursday, February 15, as the Huntingdon County Arts Council participates in Art Walk Huntingdon with a very special event: Fish Printing with Celina Seftas.
Join us to create your own Gyotaku art. the traditional Japanese method of printing fish, a practice which dates back to the mid-1800s. This form of nature printing may have been used by fishermen to record their catches, but has also become an art form of its own.
Celina Steftas, District Manager of the Huntingdon County Conservation District, will help young and old alike create their own Gyotaku as part of Art Walk Huntingdon on Thursday, February 15 from 5 to 8 pm. She will also talk about our native fish. Suggested donation $2.
Art Walk Huntingdon takes place on the third Thursday of every month during the hours of 5:00-8:00 pm.
The Arts Council is one of many venues participating in Art Walk Huntingdon. All events are open to the public thanks to the sponsorship of participating businesses and the Huntingdon County Visitors Bureau.