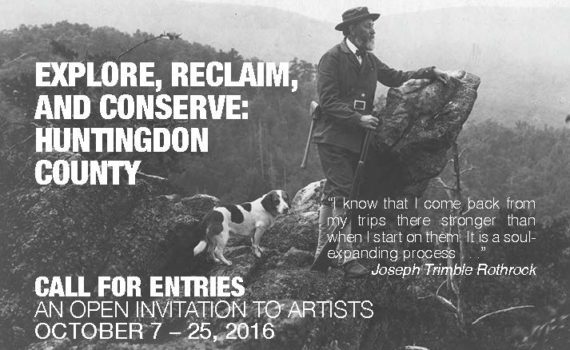 Once again, the Huntingdon County Arts Council invites all artists to submit to their work based on a theme for an exhibit this October.
The theme this year is Explore, Reclaim and Conserve: Huntingdon County. McVeytown native and pioneering environmentalist Joseph Trimble Rothrock (1839 to 1922) was the father of Pennsylvania forestry and inspired our theme with his quote:
"I know that I come back from my trips there stronger than when I start on them. It is a soul-expanding process . . ."
This exhibit is a conjunction with the Huntingdon County Conservation District.
This is the 3rd year that the Arts Council has conducted a themed show.
The first themed exhibit was in 2014 the theme was the the Edgar Alan Poe poem The Raven.
In 2015 the theme was bicycling. Both shows had outstanding works of art from a wide variety of artists and a wide variety of art styles.
Here are the details for submitting work for the October show.
Call for Entries
We will accept 2D/3D artwork, poetry, and prose based on, inspired by, or related to the natural beauty of Huntingdon County. Categories: all media.
Submissions
Tuesday, October 4 or Thursday, October 6, 4 to 6 pm, or by appointment.
Please include a brief artist's statement with each submission.
Pick-up
Wednesday, October 26, 2 to 6 pm or by prior arrangement.
Artists' Reception
Friday, October 7, 6 to 8 pm
Please come and help celebrate the natural beauty of Huntingdon County and showcase your talent.
Show dates
October 7 to 25, 2016
Show Hours
Tuesdays, Thursdays, Fridays from 12 to 6pm, Saturdays from 10 to 4pm.