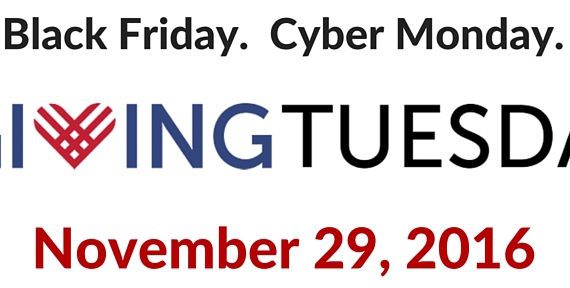 #GivingTuesday is Today
The Arts Council Appreciates Your Support
Today is #GivingTuesday. #GivingTuesday is a global day of giving where you choose to donate money to any organization of your choice!
We appreciate your ongoing support of our programs and activities! Your support of the Huntingdon County Arts Council helps us support arts and cultural opportunities in Huntingdon County.
Donations to the Arts Council can be made on our Get Involved page of our website, www.huntingdoncountyarts.com
The Huntingdon County Arts Council is a non-profit, run with one part time employee and a host of wonderful volunteers. With your contributions we are able to offer a wide variety of programs.
During this holiday season we hope you might consider supporting the Huntingdon County Arts Council. #GivingTuesday is an international day to "give back." After Black Friday and Cyber Monday, kick off the charitable season on Tuesday, November 29 with a donation of your time, resources, and ideas.
For your convenience, this PayPal link makes giving simple:
http://huntingdoncountyarts.com/?page_id=209
You can also send a contribution to Huntingdon County Arts Council, 212 Fourth St, Huntingdon, PA 16652.
We hope that you have enjoyed some of these activities provided by the Huntingdon County Arts Council:
Arts in Education School Music Tour:
Mountain Dulcimer Concerts and Workshops in 5 local schools
Folk College
Greenwood Furnace Folk Gathering
Fiber ArtsFest
4 Concerts on the Quad in July
Art Walk Huntingdon in September with Fiber ArtsFest Teachers
Art Walk Huntingdon in October with Fish Prints
Art Walk Huntingdon in November with Spud Block Printing
Sponsorship of Huntingdon Camera Club
Art Station at the Huntingdon County Fair
Repainting the Art Station at the Huntingdon County Fairgrounds
Local Arts in Education Grant to Juniata Valley School District to support artist residency
Local Arts in Education Grant to Mud Mobile Project
Local Arts in Education Grant to Southern Huntingdon School District to support elementary art program
Pysanky Ukrainian Egg Decorating Workshop
Art from the Adult Training Exhibit in January
Slow Arts Exhibit by Marie Campbell in February
Art is Everywhere, Art is Everyone Exhibit by Huntingdon Area School District in March
Spring Thaw Student Art & Writing Exhibit in April
Life Challenges Exhibit by Kristina Krohnemann in May
An Artful State of Mind Exhibit by the Mount Union Art Guild in June
The Art of Movement Exhibit by Nicole Somplatsky in July
Director's Cut Take Exhibit by Arts Council board members in August
Mythologies in the Narratives Exhibit by J.E. Crum in September
Explore, Reclaim, and Conserve: Huntingdon County Call for Entries Exhibit in October
Light, Life, and Lens Exhibit by Huntingdon Camera Club in November
Holiday Shoppe in December