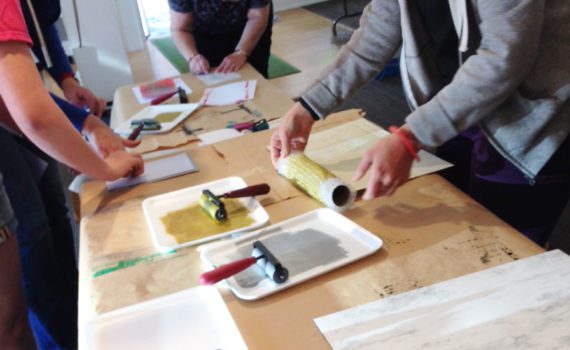 Join us Thursday, February 16, as the Huntingdon County Arts Council participates in Art Walk Huntingdon with a very special event: Printmaking with Ryan Gibboney.
Ryan Gibboney, a talented graphic artist and member of the Juniata College faculty, will be at The Art Space to lead simple printmaking projects. Try your hand using a variety of assorted materials to both print with and print on. We are requesting a small donation for the activity.
While you're here, you can also enjoy Local Fiber exhibit.
Madden's Taxi Service will again be running a free shuttle between Art Walk Huntingdon events.
Art Walk Huntingdon takes place on the third Thursday of every month during the hours of 5:00-8:00 pm.
The Arts Council is one of 12 venues participating in Art Walk Huntingdon. All events are open to the public thanks to the sponsorship of participating businesses and the Huntingdon County Visitors Bureau.