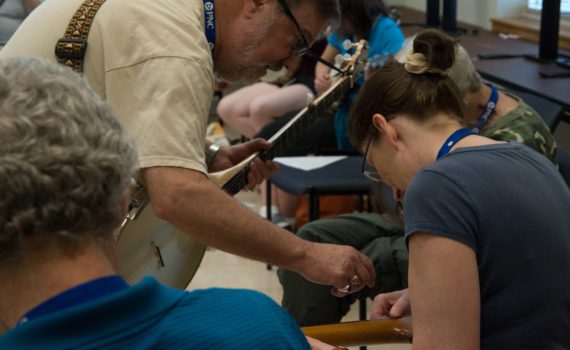 Join us Thursday, May 18, as the Huntingdon County Arts Council participates in Art Walk Huntingdon with a very special event: Folk College Preview.
Holly Foy and Jerry Trusty will be on hand to play music, teach how to play a ukulele, and sing a song or two.
Here is a schedule for the evening:
5 pm Try a Ukulele
6 pm Banjo Concert
7 pm Try a Ukulele
Come learn all about Folk College and get a taste of what happens at the Folk College workshops.
While you're here, you can also enjoy the wonderful paintings by Jennifer Hartzler's Melange exhibit.
Art Walk Huntingdon takes place on the third Thursday of every month during the hours of 5:00-8:00 pm.
The Arts Council is one of 12 venues participating in Art Walk Huntingdon. All events are open to the public thanks to the sponsorship of participating businesses and the Huntingdon County Visitors Bureau.